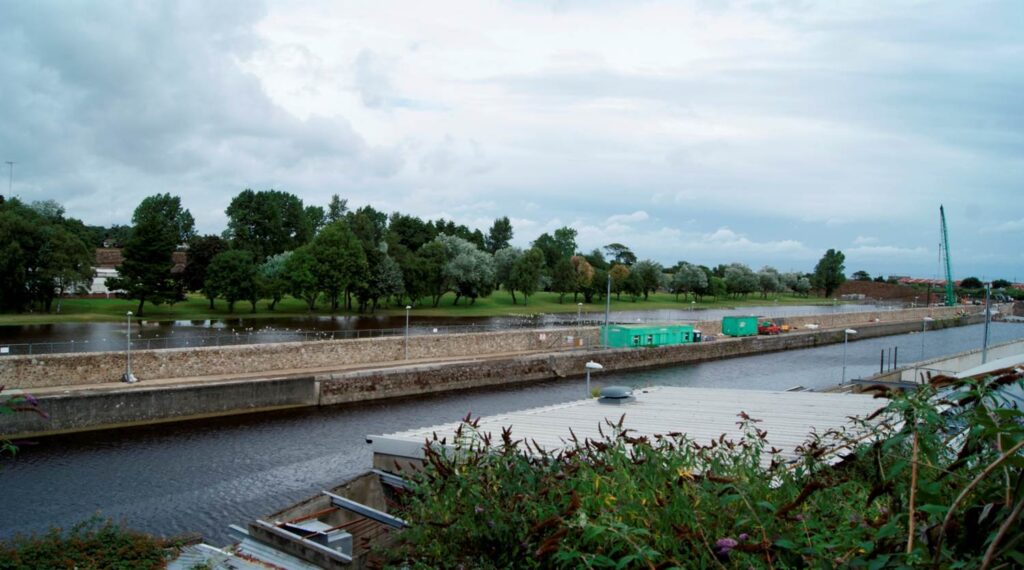 Watch Charlie Bird report on Hurricane Charlie on RTE here; https://www.rte.ie/archives/2013/0826/470325-hurricane-charley-hits-bray-1986/
This is the site of the old Bray Golf Club in Bray, and the long corridor of low land running parallel with the wall, is a floodplain.
Flash flooding destroyed homes right throughout this community – in 1905, '31, '65, and '86, and this floodplain acted as a safety valve in times in those times.
This flood defence wall was then a hedge so that whenever the high tides and swollen Dargle River met just at this point, the river overflowed across Ravenswell Road, through the hedge, and across this floodplain.
Now, this flood defence wall prevents flooding accessing the floodplain.
If, with rising tidal levels, the river overflows here, the water will naturally flow downstream into Little Bray.
If, on the other hand, the defences break upriver from Little Bray, then the flash floods that come down through their streets will be prevented from returning to the river – the water will have nowhere to go to if this floodplain is blocked by buildings or roads.
That is why Little Bray was shocked to learn of Wicklow County Council's proposal to build a 4.4m wide and more than 6.5m high embankment right across the floodplain, from just beyond Coláiste Ráithín on the schools' road, above us to what the Council are calling a 'sustainable' public transport bridge.
Such a high, wide embankment would seriously diminish an already compromised floodplain, and flies in the face of mandatory Flood Risk Guidelines that insist you should ignore the presence of flood defences when calculating flood risk.
Little Bray is home to a very high percentage of elderly people, and our community wants to protect them and do everything we can to minimise the risk of flooding their homes again.